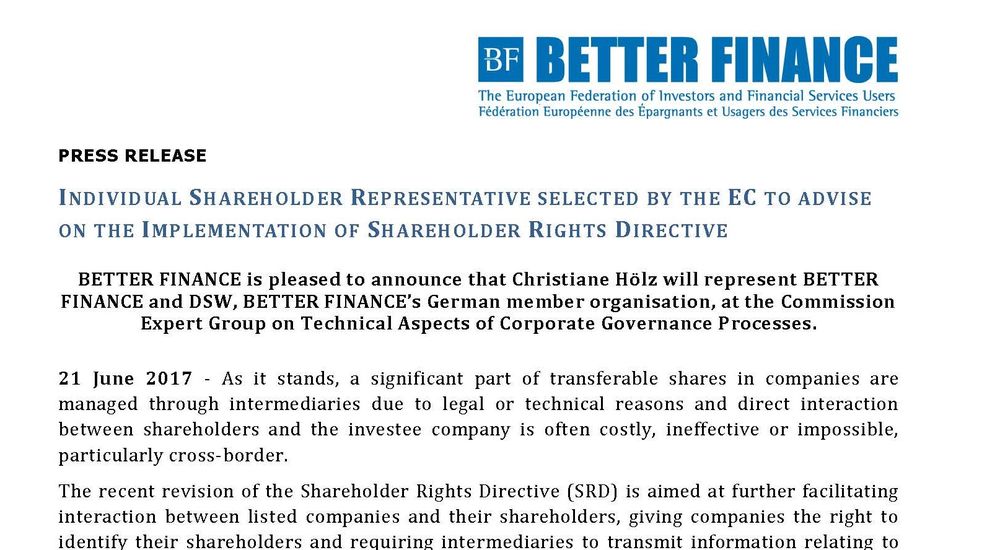 The European Federation of Investors and Financial Services Users (Better Finance), whose active member is also the PanSlovenian Investors' & Shareholders' Association (VZMD), announced that Ms. Christiane Hölz will represent Better Finance and their German member organization DSW at the Commission Expert Group on Technical Aspects of Corporate Governance Processes. The group consists of 12 members and was set up by Commission's Directorate-General for Justice and Consumers ("DG JUST) at the European Commission.
As it stands, a significant part of transferable shares in companies are managed through intermediaries - due to legal or technical reasons. Direct interaction between shareholders and the investee company is often costly, ineffective or impossible, particularly cross-border. The recent revision of the Shareholders' Rights Directive is aimed at further facilitating direct interaction between companies and their shareholders, giving European companies the right to identify their shareholders, and requiring the intermediaries information relating to the exercise of shareholders' rights and facilitating the exercise of this rights.
The Shareholders' Rights Directive empowers the DG JUST to adopt implementing acts in order to specify minimum requirements concerning shareholder identification, transmission of information in the chain of intermediaries and facilitation of exercise of shareholders' rights.
Read more on significant changes here:
www.vzmd.si – More on the VZMD – PanSlovenian Shareholders' Association

www.vzmd.tv and www.investo.tv – Over 300 videos from VZMD.TV and investo.tv

www.investo.si – More on the investo.si – Invest to Slovenia Program

www.invest-to.net – More on the network of 65 national organizations of shareholders and investors – invest-to.net